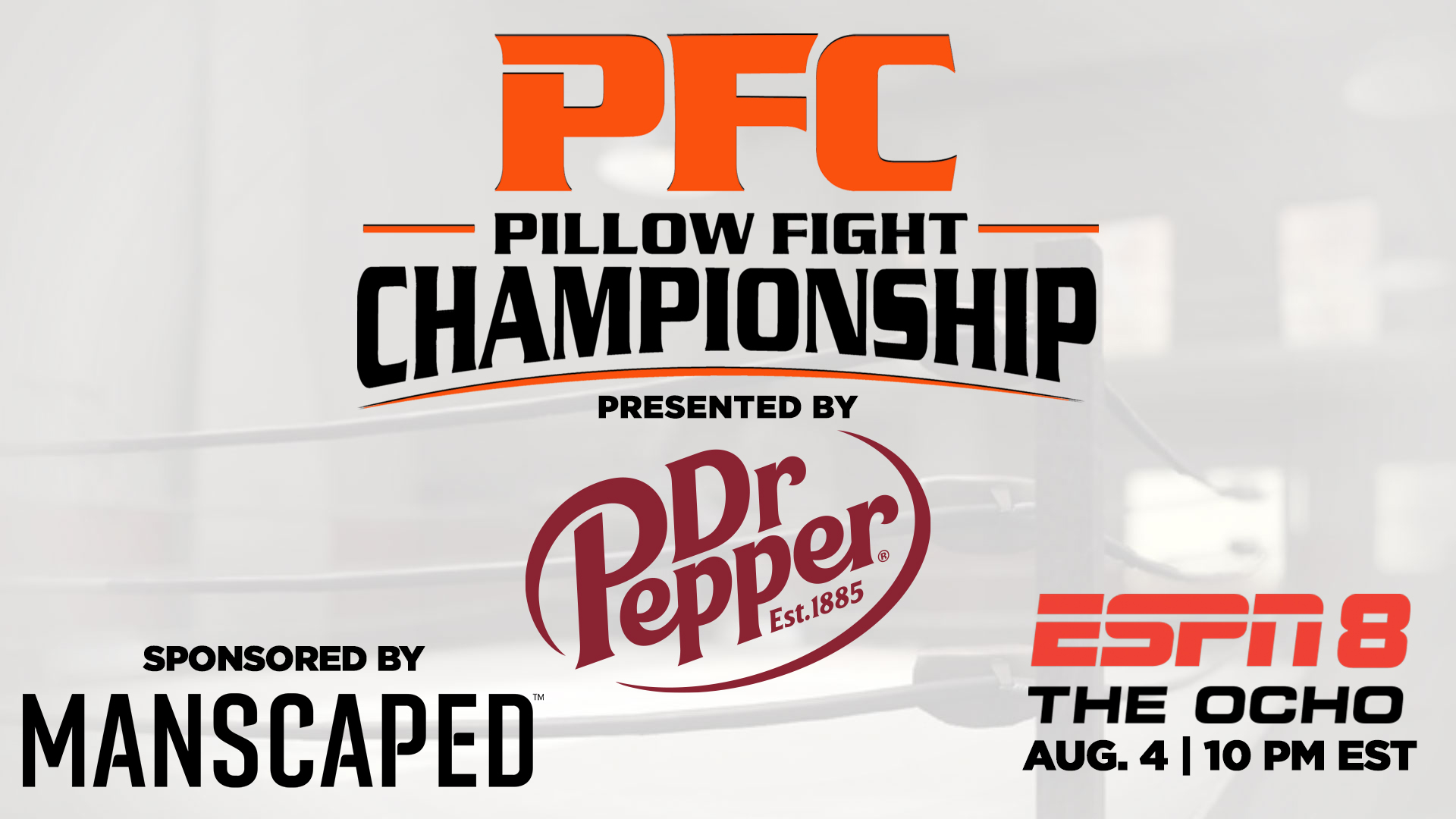 BOCA RATON, FLA. – Pillow Fight Championship (PFC) is joining forces with ESPN, Dr Pepper and Manscaped to bring the high-octane action of professional pillow fighting to ESPN's annual Ocho event as PFC: Pillow Fight Championship Presented by Dr Pepper takes over ESPN8: The Ocho airwaves Aug. 4, LIVE at 10 PM EST on ESPN2.
PFC: Pillow Fight Championship Presented by Dr Pepper headlines the second night of 43 total hours of seldom-seen sports stepping into the spotlight on ESPN8: The Ocho. The annual event, inspired by the 2004 film Dodgeball, takes pride in showcasing innovative new sports and PFC fits in perfectly. PFC's partnership with ESPN, Dr Pepper, and Manscaped represents a shared vision of bringing exceptional sports, competition and entertainment to viewers by embracing the unexpected.
"PFC is incredibly excited to join forces with Dr Pepper and Manscaped to present this special event on ESPN's The Ocho," said PFC CEO Steve WIlliams. "By partnering with Dr Pepper and Manscaped to bring PFC to ESPN8: The Ocho, we're presenting the world with real, intense fights without the blood or broken bones for the The Ocho championship belts and a grand prize of $5,000."
"PFC fights combine super intense fighter athleticism, spirited competition, and of course, our specialized, patent-pending PFC Combat Pillow that make a distinctive bang when it hits," Williams continued. "Get ready to witness a remarkable display of skill, strategy, and adrenaline-pumping action for the title and the cash. The PFC fights will be combat unlike anything ever seen on ESPN."
During PFC: Pillow Fight Championship Presented by Dr Pepper, viewers can expect to see top-rated professional PFC pillow fighters – each accomplished MMA fighters in their own right – demonstrating their agility, coordination, and endurance as they engage in fast-paced battles with the goal of being crowned The Ocho Champion as well as the Men's PFC Champion. Competing in the men's division is gifted Summerville, South Carolina native and Cane Bay High School's own Brayden Helms. Brayden's natural talent will pit him in a true David vs. Goliath battle that will showcase professional pillow fighting's intense yet safe style of combat.
Other fighters include; Hauley Tillman, Reggie Newsome, Markus Perez, Jacob Diaz, Parker Appel, Jeffrey Simon, Leandro Apollo, Danilo Gurgel, Leo Carvalho, Terrell "TJ" Jenkins, and Turbo Turabi.
Finally, a new PFC US Women's Champion will be crowned as seasoned PFC veteran Kendahl Voelker battles MMA World Champion "The German Tank" Julia Dorny.
Additional sponsors include BioLabs, Xcoin, and StingBox.
Mark your calendars for 10 PM EST Aug. 4 as PFC Pillow Fight Championship Presented by Dr Pepper takes over ESPN's "The Ocho" for an unforgettable showcase of the unique sport. Check FightPFC.com and follow PFC on TikTok, Instagram, YouTube and Twitter @FightPFC for up to date news on "The Ocho" festivities.
About Pillow Fight Championship
Pillow Fighting Championship (PFC) (www.fightpfc.com) is the world's first professional international pillow fighting sports league. The fastest growing combat sport in the world, PFC's trailblazing approach, innovative programming and strategic partnerships delivered over 2 billion video views in just our first six weeks. As the appeal of professional pillow fighting continues to reach new audiences, the sport has formed PFC-sponsored leagues in Brazil and Ghana. We leverage the powerful connection consumers have with sports, entertainment and technology with tactical programming that is turnkey for sponsor activation, fan engagement and unmatched reach among our Gen-Z & Millennial audience.
Source Links:
https://www.drpepper.com/s/
https://www.manscaped.com/
https:// www.stingbox.com/
https://biolabs.dev/
https://xcoins.com/en/